The Exumas Bahamas
Home to the likes of Johhny Depp, Oprah Whifrey, and Tim McGraw and Faith Hill, the Exuma Cays sapphire waters and snow white sands are a place of paradise.
It's no wonder films like Pirates of the Caribbean, Into the Blue and James Bond have all filmed here. They are like a picture perfect movie setting.
Dreaming of the Exumas
Lovely Accommodation
We stayed at the brand spanking new Embrace Resort on Staniel Cay owned by island resident Nikki. I love this story because Nikki isn't a Hollywood celebrity or famous Sultan, she is a woman that was born and raised in the Exumas and she and her family have opened luxurious family run cabanas complete with hot tubs and kitchens.
With electric golf carts supplied, you can travel all over the island exploring your own secluded beaches.
Sailing Trips
There is a lot to do in the Exuma Cays and you can rent a boat or if you are rich enough arrive on your own yacht to explore the gin blue waters of all the 365 islands. The Exumas have 365 Islands alone. You can explore an island a day for a year!
Swimming Pigs
One of the most famous stops in the Exumas is a visit with the swimming pigs. Left over from colonial days, this group of pigs now run wild in the woods off the beach and come out daily for a dip in the sea.
People bring cabbage to feed them and you can get in the water to swim with them. But don't get too close, they'll nip you if they think you have food.
Snorkelling and Diving
I mentioned snorkelling above and the Bahamas has some of the best snorkelling and diving on earth. The gin blue waters or crystal clear and warm as butter.
Our favourite was Thunderball Grotto home to the famous movie scenes of James Bond's Thunderball. At low tide you can swim through short caves and enter this beautiful cave in the middle of an unassuming island.
Once you are inside it is breathtakingly beautiful above the water and below! The rocks are lit up as the sun shines through and the bright colours of the fish sparkle in the beams of sunlight.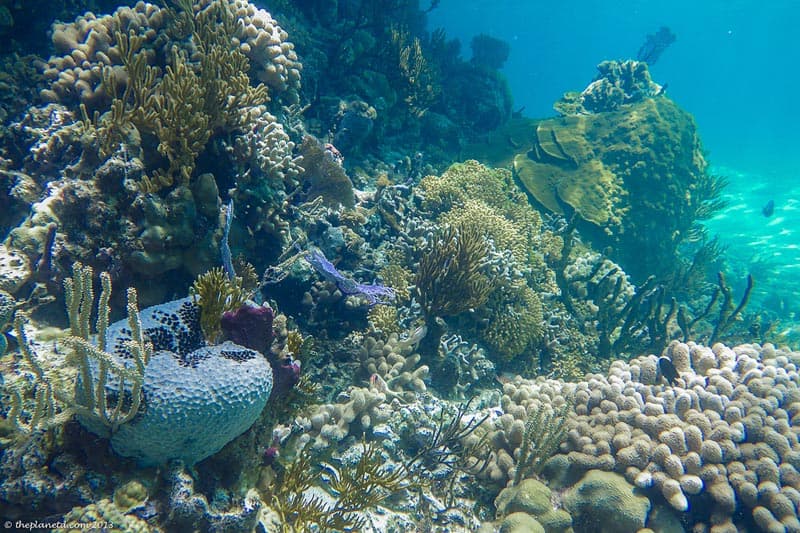 Yacht Club
A visit to the Yacht Club is a must. This is where everyone gathers and there are photos of the past movies stars that have stopped in for a drink.
Even though the patrons are all most likely millionaires, you don't feel intimidated because they are relaxed and dressed casually. I say they are all most likely millionaires because most of the people eating there have just come in off their yachts that are either docked in a secluded bay or in the harbour itself.
Sharks and Barracuda
The Bahamas is known for its friendly sharks. Sadly we didn't make it out to Compass Bay where all the nursing sharks are known to congregate and you can hop in the water with them, but we did have a lot of amazing encounters with fish life in the waters here.
Beaches
The Exumas have pristine secluded beaches. While we drove around on our gold carts we found several spots to swim with nobody at all around.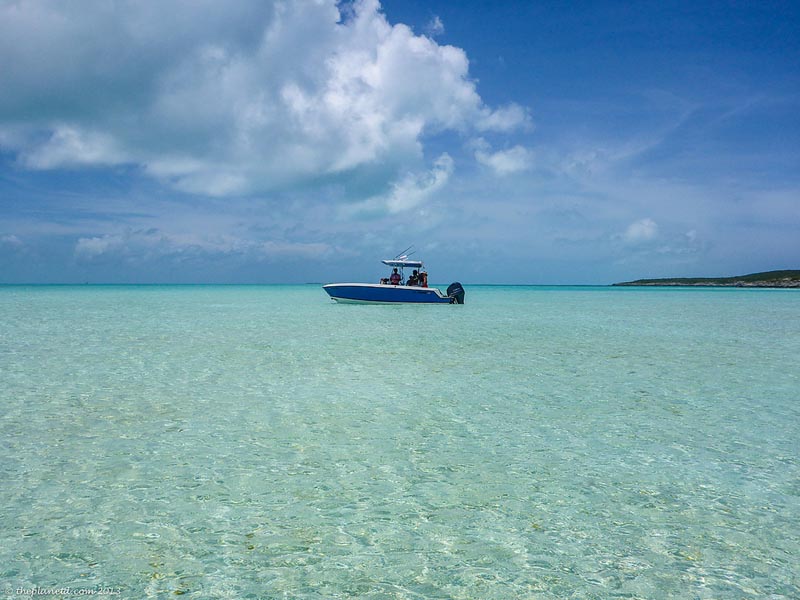 Gin Blue Waters
The Exumas have many names for their crystal clear waters. Gin Blue is the popular one that comes to mind.
It's also been upgraded to Bombay Sapphire Blue. Hey if you are going to call it gin blue, you might as well call it a premium gin blue. Whatever you want to call it, everyone will agree it's beautiful.
Have you been to the Exumas? Where is your dream trip?
Comment below